After attendance of marking the twentieth anniversary of the Srebrenica Genocide, the chief prosecutor in Hague Tribunal Serge Brammertz today visited the Memorial Gallery 11/07/95.
Tarik Samarah, founder of the Gallery 11/07/95, personally guided Brammertz through the gallery, explaining him the sections of the exhibition. Brammertz initially passed next to the wall with the names of the victims from Srebrenica, then the map of the mass graves and room with the portraits of the victims, and the photographic setting consisting of the images from Samarah series about Srebrenica.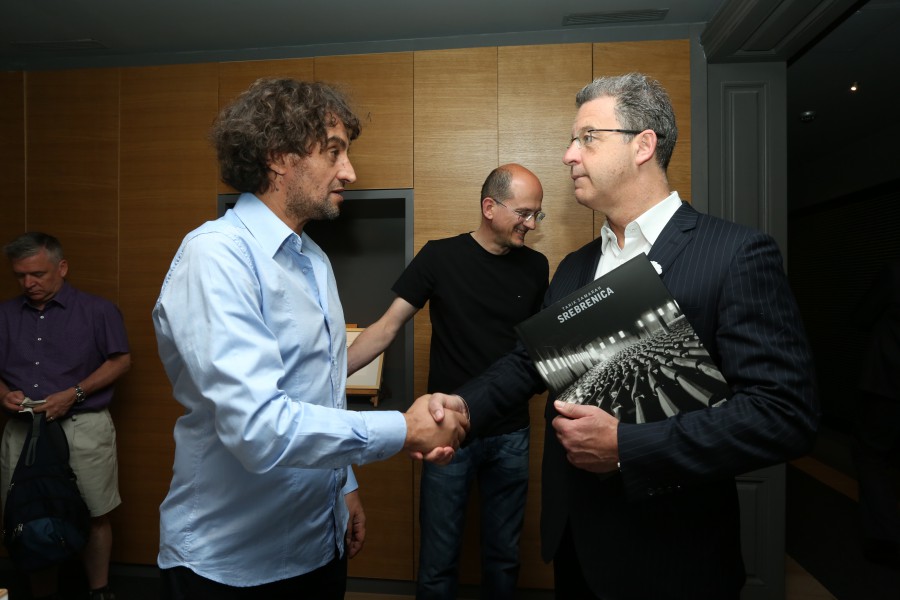 Parts of the gallery exhibition are the photographs of graffiti written by the Dutch peacekeepers during their mandate in protected zone Srebrenica. Brammertz said he recently attended a screening of a short video at the UN headquarters in New York, in which, among others, appeared the photograph of graffiti (UN-United Nothing). On this occasion Brammertz conveyed the impressions of ambassadors who were present at the UN assembly during the commemoration of Srebrenica genocide, pointing out that they all agree that it is a powerful video and message, but some expressed astonishment by the fact that this message is presented in UN headquarters, considering the mentioned graffiti.
Tarik Samarah once again underlined that graffiti was written by the UN peacekeepers, which were not consistent in their mission, and with his work he conveyed their message.
At the end of the visit, Tarik Samarah presented to chief prosecutor  the monograph "Srebrenica" and photograph "The Birds" as a gift, while Serge Brammerz expressed his hope that the Hague Tribunal and Gallery 11/07/95 will cooperate in the future.