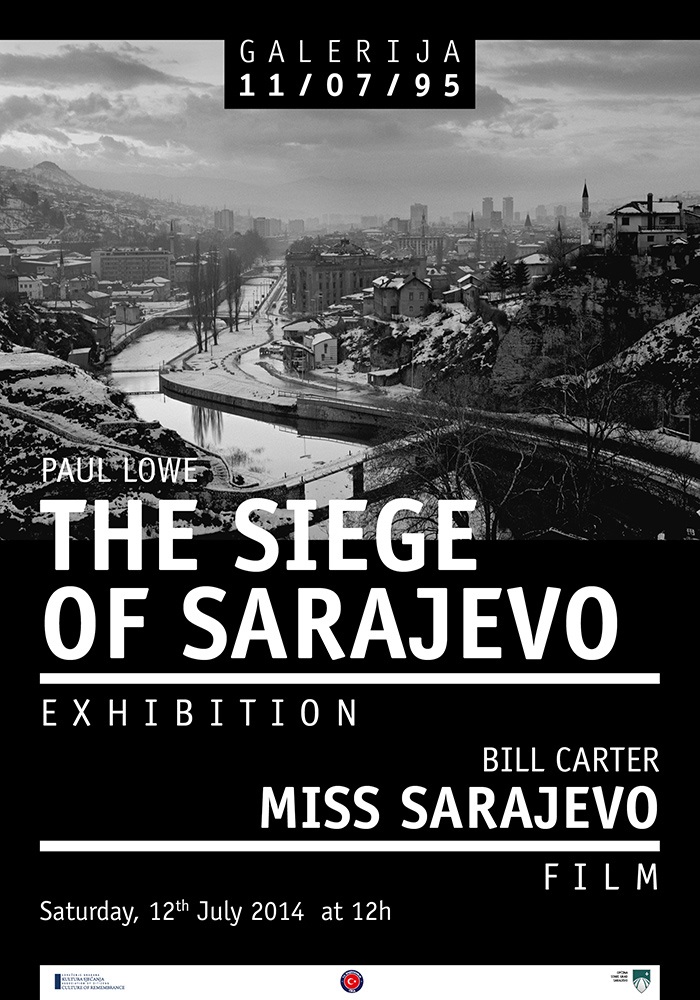 On Saturday, 12 July 2014, a photo exhibition entitled "Sarajevo Under the Siege" by Paul Lowe and the screening of "Miss Sarajevo" by Bill Carter were presented in the new and reconstructed Gallery 11/07/95.  Numerous public figures, artists and culture professionals from Bosnia and Herzegovina, as well as representatives of the diplomatic corps attended the screening. Photographer Paul Lowe, Ferida Durakovic, poet from Sarajevo, Fatih Karaca, TIKA-a coordinator for Bosnia and Herzegovina, Cihat Erginay, Ambassador of Turkey to BiH, and Ibrahim Hadzibajric, Mayor of the Old Town Municipality, opened the exhibition.
At the opening Tarik Samarah, photographer and founder of the Gallery, said that his thoughts were still with the families that had buried their loved ones in Potočari the day before and that they were the reason for the Gallery.
"Today is the second anniversary of the Gallery. The genocide in Srebrenica was not an incident; it was the pinnacle of an ideology, and because of it, 100,000 people died in the past war. Our desire is for this Gallery to become a place for remembering, but also a warning that such a war never happens again to anyone. And that is the reason for Paul Lowe's exhibition", said Samarah.
Paul Lowe highlighted that these photographs were important reminder for generations to come. "These photographs are 20 years old and when I look at my archive, it is hard for me to comprehend what we have all experienced back then. I think it is very important for the generation of today, for those who will come, but also for the older people not to forget what happened in the past and not to allow that to happen in the future,'' said Lowe.
Photography series "Sarajevo Under the Siege" by Paul Lowe, and the film "Miss Sarajevo" by Bill Carter, bear witness to the terrible everyday wartime life of the citizens of Sarajevo, and the omnipresent spirit of resistance. The siege of Sarajevo, the longest siege of a capital in modern history, began in April 1992 and ended in February 1996. The aftermath of the siege is: more than 10,000 killed, over 60,000 wounded and over 500 children killed. Every fifth citizen of Sarajevo was in danger of snipers or some other weapons.