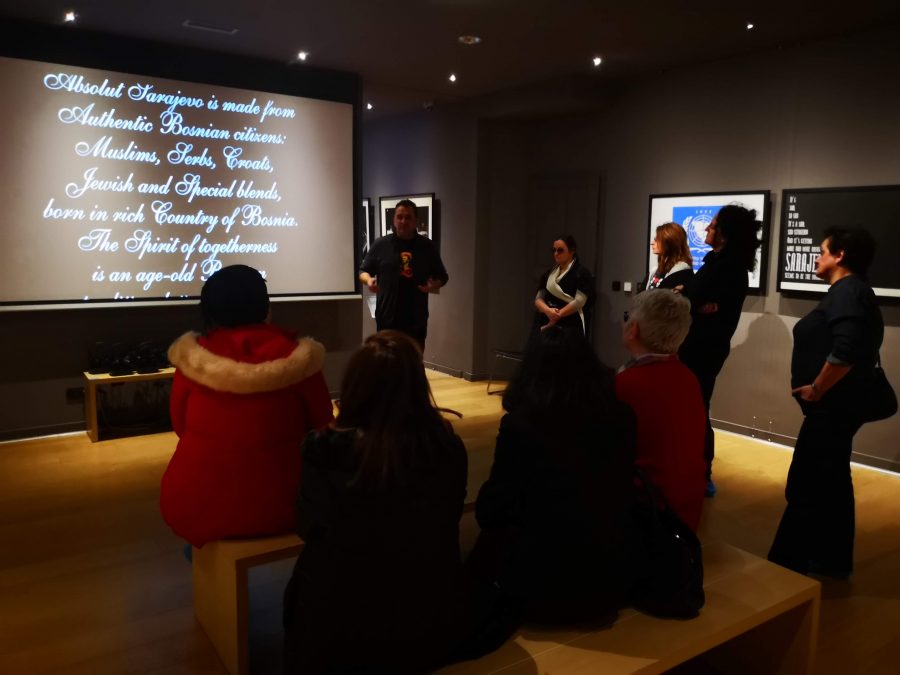 As part of the project on education about art and creative production during the siege of Sarajevo, representatives of seven schools from the Sarajevo Canton attended a lecture by Bojan Hadzihalilovic, professor, designer and member of the art group DESIGN TRIO SARAJEVO. The lecture was held at the Gallery 11/07/95, at the gallery section where the current exhibition Greetings from Sarajevo dedicated to the siege of Sarajevo is presented.
The DESIGN TRIO SARAJEVO group was founded in the 80's by Bojan Hadžihalilović, Dalida Hadžihalilović and Lejla Mulabegović Hatt, who were students at the time at the Academy of Fine Arts in Sarajevo. During the siege, they created a series of posters "Greetings from Sarajevo 1993" using motifs from popular culture to send a message about the city's everyday life. Their first exhibition was opened at the Collegium Artisticum Gallery on February 8, 1994, on the tenth anniversary of the Sarajevo Winter Olympic Games.
After the lecture, the school's representatives were presented with catalogs of the exhibition, as well as the reproduction of posters from the same collection. The lecture was attended by representatives of the Secondary School of Applied Arts, the Secondary Electrical Engineering School, the Secondary School of Metal Occupations, the Fifth Gymnasium Sarajevo, the Dobrinja High School, the Secondary Vocational Secondary School and the First Bosniak Gymnasium.