A delegation of Bundestag led by the Marieluise Beck president of the Friendship Group of the German Bundestag and member of the Parliamentary Assembly of the Council of Europe visited the Gallery 11/07/95. In addition to Marieluise Beck, delegacy consisted of the MPs Michel Brand (CDU/CSU), Josip Juratović (SDP), Gerold Reichenbach (SPD) and representatives of the German Embassy in Bosnia and Herzegovina.
Tarik Samarah, founder of the gallery and author of the main exhibition, accompanied the delegacy through the permanent exhibition.  Even though during her political engagement was linked with the situation in Bosnia and Herzegovina, Marieluise Beck didn't hide her shock with the content she saw in the gallery. She pointed out how she cherishes special emotions and memories regarding Srebrenica, since she was in Tuzla during the arrival of refugees in 1995.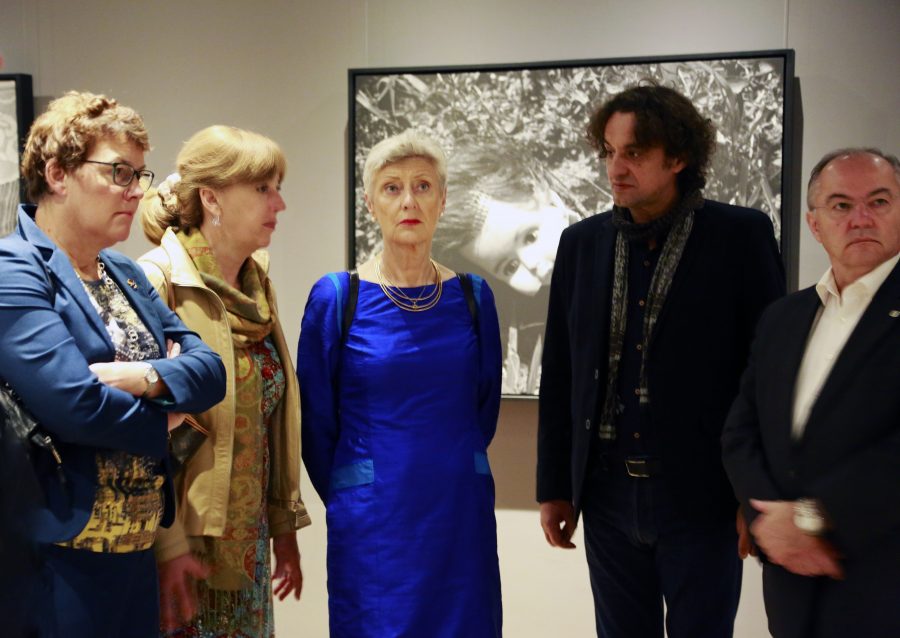 Marieluise Beck said that the genocide in Srebrenica "is unimaginable failure of the international community", and that similar things are happening even today, especially in Syria where UN continues to violate their promises. However, Beck expressed her belief in the correctness of this idea and that is something that we owe to the victims from Srebrenica.
At the end of the visit, Beck chose to have a photograph of the UN graffiti (UN-United Nothing) that the Dutch peacekeepers wrote during their mandate in Srebrenica, as a symbolic memory.
Marieluise Beck was from 1988. to 2005. representative for Migration, Refugees and Integration, from 2002. she was a Parliament Secretary State in the Ministry of Family, Retirees, Women and Youth. Since 2005. she is a member of the Committee on Foreign Affairs. The focus of her work is the area of eastern and southern Europe. Member of the Parliamentary Assembly of the Council of Europe and member of the Parliamentary Assembly OSZE's. In her previous work she showed interest and commitment to Bosnia and Herzegovina. She is the President of the German-Bosnian parliamentary group in the German Bundestag.