Gallery 11/07/95, opened on July 12, 2012, is marking its tenth anniversary this year. Conceptually envisioned as an institutional hybrid between a museum and a gallery, Gallery 11/07/95 has become an important point on Europe's cultural map over the past ten years. Taking the genocide in Srebrenica as its reference theme, Gallery 11/07/95 strives to offer an alternative to dominant interpretative narratives that focus on the crime and its perpetrators, while reducing the victims to statistics and numbers. By focusing on the individual experiences and suffering of the victims, the Gallery aims to create a space for understanding.
On the occasion of its tenth anniversary, Gallery 11/07/95 commemorates by displaying the artwork "Doll" on the facade of the building where the Gallery is located. Alongside the photograph, there is a text that provides an explanation of the photograph: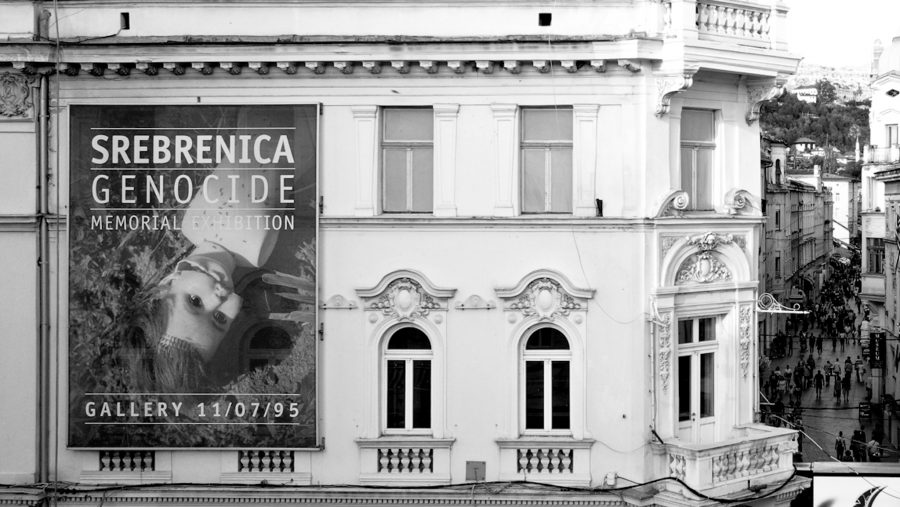 Message
"The photograph of the doll on a mass grave was taken by Tarik Samarah in 2003 in Kamenica, near Zvornik. Beneath the doll, covered with ants, with its face cut off and without arms, left as a message, there was a secondary mass grave with over 600 incomplete (intentionally hidden to conceal the crime) and mechanically dismembered bodies.
The doll was a message and a threat that the crime was not over, that it could continue, be repeated, and that the truth must not be revealed.
However, the photograph, as a captured moment of unfinished present, portrays an event that escapes the possibilities of expression, as the trauma is so powerful that it surpasses the boundaries and possibilities of language. It invokes the repetitiveness of the moment in which the doll's message is simultaneously our present, past, and future.
The abandoned doll is a message that the genocide is still ongoing and that it looks at us through the eyes of all those who repeatedly claim that there was no genocide."
Believing that art, among other things, acts by shifting our horizons of expectation and compelling us to reflect on certain topics, displaying the artwork in a non-standard (external) space is an artistic intervention through which Gallery 11/07/95 aims to contribute, within the realm of culture, to constructing the narrative of the Srebrenica genocide.